Crystal Clear
Caribbean yacht charters
Caribbean Sailing vacations and yacht charters in the Virgin islands- Virgin Gorda.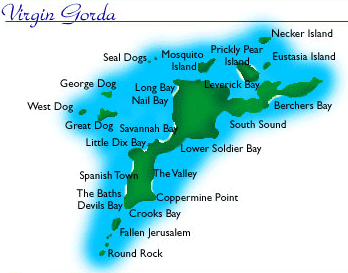 Virgin Gorda
Virgin Gorda, or "Fat Virgin", refers to a protruding mountain noted by Columbus on this second largest of the British Virgin Isles. Only ten miles long and two miles wide, the island is known for its yacht clubs, quiet coves, and safe anchorages for bareboats.
Its most celebrated beach - The Baths - is an intriguing grouping of huge granite rocks framing grottos filled with with sea water. While geologists ponder the origins of these mysterious boulders, swimmers and snorkelers refresh themselves in the cool waters of hidden pools and secret passages.
Nature lovers can enjoy a short stroll from The Baths to the Devil's Bay National Park, one of several parks given by the Rockefellers to the British Virgin Islands' government in the 1960s.
Caribbean Yacht Charters
Chartering Crystal Clear is the best way to sail and experience the beauty of the world's greatest cruising grounds. Crystal Clear crewed sail vacations begins from the world's most breathtaking sail destinations. Our exceptional personalized service assure you of the ultimate sailing vacations.
Sail vacations on Crystal Clear is very much like staying in an exclusive villa with professional full-time staff to look after you and make sure you have everything you want. The great advantage is that on your sail vacations you can move from anchorage to anchorage or another island every day. Its totally up to you to decide on the itinerary. Maybe you just want to do is relax in a shady cockpit or hammock, sunbathe, read a book, swim and snorkel or chat with friends then by all means, or perhaps you want to go ashore and explore little villages, hill climb or shop in local markets.