Crystal Clear
Caribbean yacht charters
in the Virgin Islands
Sailing vacations and yacht charters in the Virgin islands.
The beautiful warm waters of the British Virgin Islands are often called the Mecca of sailing in the world. Crystal Clear uncovers natures little secrets, imagine exploring uninhabited islands, snorkeling or simply relaxing in a hammock reading your favorite book. These little pleasures can reacquaint you with life's simple pleasures.
Discover the rich culture of the Caribbean by dancing on the beach to the sounds of a traditional steel band.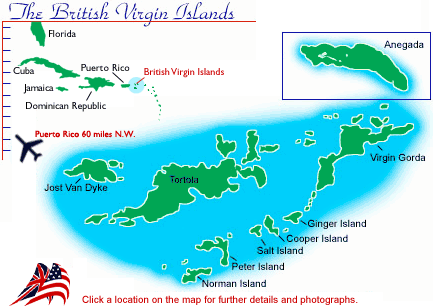 Virgin Island Sailing Charters
,
British Virgin Islands
: The Beautiful British Virgin Islands are described as "Nature's Little Secret".
Minutes after boarding and casting off, the adventure begins & you will find yourself sailing in an abundance of quiet & protected anchorages, with white sand, palm fringed beaches and crystal clear waters alive with beautiful corals & colorful tropical fish.
Diving and snorkeling is rated among the best in the world. Over sixty dive sites are chartered, many within a recently established underwater National Park System. Innumerable virgin reefs remain unexplored. Vertical walls, underwater pinnacles, coral reefs, caverns and wrecks - most notably the RMS Rhone which sank in 1867. Perfect for a family vacation, romantic Honeymoon or a fun vacation with friends.
Come and experience the ambiance, the comfort, the luxury that has given this Virgin Island sailing yacht one of the finest reputation in the industry. Get away from the crowds and experience the best Virgin Island sailing grounds in the Caribbean. There are a lot of quiet cays and coves all around the British and US Virgin Islands. Visit the great beaches where the scenery, pristine sand and sparkling waters have given the Virgin Islands the reputation for having the most beautiful beaches in the world. Reefs overflow with tropical fish and the clear protected waters offer excellent virgin island sailing, snorkeling, kayaking and scuba diving.
Get away from all the crowds and set sail to one of our quiet coves where you will experience the wonders of life above and below the sea. Swim, snorkel, relax on deck or spend time beach combing while your chef prepares an appetizing gourmet lunch. Afterwards, get ready for another invigorating sailing trip, take your turn at the helm or just sit back and enjoy the scenery, the day is still young. Your captain will make a stops during the day, upon your requests, where you can experience more of what so many visitors come back for year after year. This is sure to be one of the highlights of your Virgin Island vacation.