Crystal Clear
Caribbean yacht charters
Sailing vacations and yacht charters in the Virgin islands.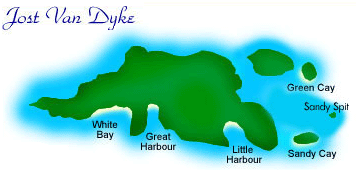 Jost Van Dyke
Jost Van Dyke, a four-square mile island to the north of Tortola's West End, once the reputed hideaway for a Dutch pirate of the same name, still welcomes travelers looking for a remote, rustic retreat and first-rate hiking trails. The best beaches are found at Great Harbour and White Bay, while Main Street is a sandy strip of beach holding the BVI customs house and several, small beach cafes famed for their freshly baked banana bread and coconut muffins.
In a decidedly offbeat but friendly community of about 200 inhabitants, hotel accommodations are modest and cater mostly to the yachting aficionados. At one of the town's most popular dining spots, the island's poet laureate-restauranteur greets each guest with a personalized guitar-accompanied serenade.
Caribbean sailing charters are much like staying at an exclusive villa where you're pampered by a staff that works tirelessly to make sure you have everything that you want. But unlike a hotel or villa where you're stuck in the same location for the entire week, your Caribbean charter yacht moves to different locations daily, on your command, and you'll experience a new anchorage and perhaps a new island every day.
What will you do for a week while on your Caribbean yacht charter?
Just about anything you'd like to do. You'll be asked to fill out a form in advance of your trip that will let the crew know your favorite foods and beverages and your favorite things to do, too. While this will help the Captain to suggest a plan of action to you when you board your yacht, it doesn't limit you to these activities alone. Just as you don't live in your hotel room ashore, you don't need to stay on board the yacht all of the time either. Activities included by your yacht are usually swimming, snorkeling, beach combing, sunning, sipping a cool drink in the shade of the cockpit, spending quality time with friends and family, reading a good book or listening to your favorite music and never having to wait in line.
After a hard day's play and a fabulous gourmet Caribbean meal aboard your sailing yacht you may be ready for a few after-dinner cordials and some quiet time together to reminisce or gaze at the stars, so many more of them visible than back home. Or if you're still craving action, you can go ashore and enjoy dancing to a driving Caribbean beat at one of many local establishments throughout the islands or perhaps live cabaret Caribbean entertainment as found at The Last Resort. Most Caribbean yacht charter clients choose to eat at least one dinner ashore during the course of the week to provide the chef with a night off and to sample some of the local cuisine (though it's not likely to rival the meals you'll be enjoying aboard your own Private Yacht Crystal Clear.)